Beautiful Handmade Cards and Tags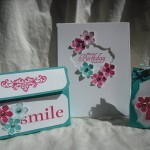 Thursday 9:45 – 11:45 a.m.
Childcare Room 2
In this course you will make sets of coordinated gift cards and tags. You will be excited to see what you are capable of creating with different tools and techniques and a selection of styles and themes!  Try your hand at stamping, die cutting, heat and dry embossing; make punch art and do some fun folds. You will even make your envelopes special and one of a kind! Halloween is around the corner, then Thanksgiving and, of course, Christmas and Chanukkah will arrive sooner than we expect! Be prepared to wow your family and friends with handmade cards and tags for each occasion. Do you want to learn to make cards that hold gift cards? You'll learn it here! Whether you are a crafting newcomer or a seasoned paper crafter, you will enjoy the fun atmosphere and the sense of accomplishment that comes from making something that means something.
Paper will be cut and prepared for you; adhesive, ink, paper, stamps, scissors, ribbon, embellishments and other items required for each project will be ready at each class.
A $30 fee for consumables is payable to the instructor at the first class.
Instructor: Claudine Dionne
---