Break a Sweat with Baby (4-18 mos.) – Low Intensity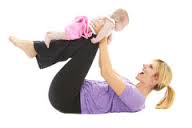 Tuesday 10:00 – 10:45 a.m.
Gym
A class designed for moms and their babies, including standing and floor exercises. We execute simple moves that allow you to work your whole body while entertaining your baby at the same time. The baby will play the role of the weight. Play and give your baby all the attention he/she needs while you perform muscle strength exercises. The course will allow you to bond with your baby while you're working out.
Important information:
Babies should be older than 4 months (so they can hold their heads up by themselves).
Please bring a yoga mat to class.
Instructor: Natalie Pesold, CAN-FIT-PRO, Fitness Instructor, Personal Trainer
Register for Break a Sweat With Baby – Low Intensity.
---