Building Blocks for Babies (4-12 mos. with Mom)
Wednesday 9:00 – 9:45 a.m.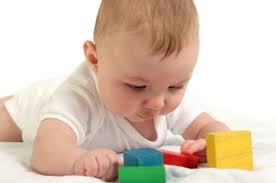 Upstairs Classroom
Would you like an opportunity to learn about and encourage your baby's development through the most important activity of all? Then, LET'S PLAY! Learn strategies and ideas to promote fine motor, sensory motor, and gross motor skills in a fun and casual environment. Interact with your baby while encouraging social and cognitive development in a group setting. Each week, the instructor will present a developmental topic for discussion, provide learning strategies and allocate time for any questions you may have. A great way to play with your child, meet other "Mommies" and share topics that are important to you. The last 15 minutes of class will be reserved as "free time" enabling sufficient time for conversation and socialization among parents.
Please Note: A $5 non-refundable fee for craft materials is included in the price of this course.
Please Note: This is a 7-week course. There is no class March 1st (WIWC Event). The last class is on March 15th.
Instructor: Wendy Pearson, B. Ed., B. A. (Bishop's University)
---