Spring Themes in Childcare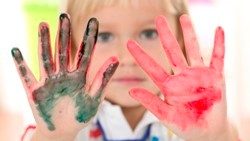 Week 1 • Earth week 
In honour of earth week on Wednesday we will be planting seeds and have an item exchange table where the kids and mom can  bring an item from home and choose to take something home.  This can be toys, books or other small items to recycle that can be displayed on a table. We will also make crafts from recycled items which the kids can bring from home.
Week 2 • The first weeks of spring with budding trees and sunshine and rain
We will be welcoming spring with lilac and cherry blossom trees and welcoming the sunshine too!
Week 3 • Birds  and bird watching
We will look at the colourful birds of spring and binoculars.
Week 4 •  Mother's Day Celebration
We'll be making many special things for Mom's special day.
Week 5 • Flowers  and Flower Gardens
It's all about blooming flowers and gardens growing!
Week 6 • Spring Bugs and Butterflies
We will look at colourful bugs and slimy bugs too!
Week 7 • Hawaiian  pool party plus Graduation week
The kids get to wear bathing suits and have lots of water play. Also the children that are going to kindergarten will graduate from the WIWC childcare.
Week 8 • Animals and sports of summer
We will be learning about the fun things of summer!
---