Circle Time with Mom (12 – 24 mos. with Mom)
Thursday 10:45 – 11:45 a.m.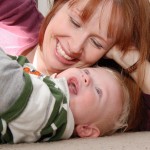 Upstairs Classroom
This class will introduce toddlers to a variety of play materials where they can learn, grow, and discover the world around them. Sensory activities that include touching different textures and handling different types of items will be involved. Each week is theme based and will include songs and finger plays, a fun learning activity, an art project and a hands-on activity. Moms will be provided with ideas and/or activities to take home with them to foster their child's growth, development, and senses. Time will also be set aside for Moms to discuss popular baby topics. Children must be 12 months of age at the beginning of the session.
Please Note: This class will start one week late (April 23).
Instructor: Jill Spence, Bachelor Early Childhood, Elementary and Special Education, University of Northern Iowa
---