Cooking: Hidden Gems
Monday 9:30 – 11:30 a.m.
Kitchen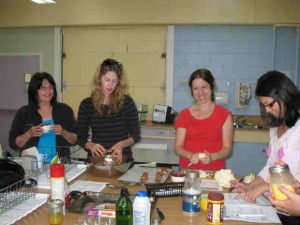 In this hands-on cooking class, participants will discover innovative and sometimes devious ways to getting more vegetables and fruits in the family diet. Some of our favourite recipes will be reinvented in order to give them a nutritional antioxidant rich boost while minimizing their caloric intake and those culprit ingredients that can wreak havoc on our health. Learn how to prepare nutritious pasta meals, clever soups and sandwiches, veggie-full crepes, wholesome muffins, all-fruit ice cream,
and other devious delights. We will touch upon some appetizers/snacks, meals and even some guilt-free desserts! A course fee of $30 for supplies is payable to the instructor at the first class. Note that dairy and nuts will be used in some recipes.
$52.00
Instructor: Nevine Elchibini, B.Comm.
Please Note: There will be no class on May 20 (Victoria Day). The final class will take place on June 3rd.
---