Cooking: Once a Month Planning
Wednesday 1:00 – 3:00 p.m.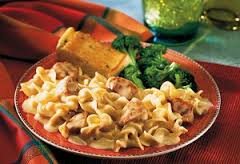 Kitchen
Are you tired of the race to get supper on the table after a long busy day? Are you looking for ways to save money while ensuring that your family eats healthy home-cooked meals that do not involve slaving in the kitchen? Then this is the class for you!
The 2-hour class combines both learning class time and hands-on cooking. We will cover the feasibility of cooking a month's worth of meals in one day, how to adapt your family's favourite meals to speed cooking, and put "the talk" into practice in the kitchen by cooking up one meal per week. Each participant will go home each week with a meal for two — your chance to put away supper to freeze for Date Night! By the end of this session, you will have 10 tried-and-true recipes that you participated in making as well as the tips to make your family favourites using the same principles. Please bring a plastic container to class. A $40 consumable fee for ingredients is payable to the instructor at the first class.
Instructor: Angela Meklenschek
---