Cooking: Super Salads and Magical Sprouts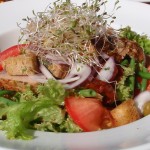 Monday 9:45 – 11:45 a.m.
Kitchen
Powerful and colourful fresh ingredients and magical sprouts — seeds of life that will magically grow for you any time — will be used to create super salads. We will cook together and then enjoy our creations, so bring your appetites! A mason jar is required for the sprouts and a $30 fee for ingredients is payable to the instructor at the first class.
Please Note: There is no class on May 18 (Victoria Day).
Instructor: Nevine Elchibini, B. Comm., N.D.
---