Add Colour to Your Journaling
Thursday 1:00 – 3:00 p.m.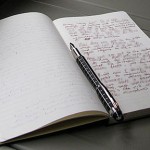 Upstairs Classroom
Using art in simple ways can add an extra layer of meaning to our words.  Combining right and left brain activity helps us connect to our intuition and access the subconscious.  In this course, we will play with ways to add visual elements to  our pages.  We will explore and learn to get comfortable with the simple use of colour, shapes, lines and images.  A variety of creative journaling techniques will be taught.  No art skills necessary!  Please bring in a 9 x 12 inch, unlined spiral bound mixed media workbook. Any spare magazines would be helpful for collage projects. There is a $5 consumables fee payable to the instructor at the first class to cover the cost of additional supplies.
Please Note: The last class is on June 6. This is an 8-week course.
Instructor: Helene Brunet, B.A. Honours English, Journal to the Self Certified Instructor

Register for Add Colour to Your Journaling.
---