Animation – How to Draw My Feminine Epic Hero (12-16 yrs.)
Saturday 2:15 – 4:15 p.m.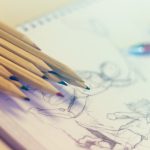 Upstairs Classroom
In this class for adolescent girls, participants will explore their own creative potential while learning how to draw feminine characters, taking inspiration from familiar figures in cinema (Lord of the Rings, Star Wars, Marvel). We will explore stationary and action poses with a notion of observational drawing, perspective and anatomy.
Important information:
Participants are asked to bring a sketchbook, pencil, eraser, pencil sharpener, pencil crayons, and ruler.
There is no class on Oct. 12 and Nov. 23. The last class is on Nov. 30. This is a 9-week course.
Instructor: Rachel Cusson, B.A., 3D Animation and Digital Design
---