Baby Massage
Monday 1:00 – 2:15 p.m.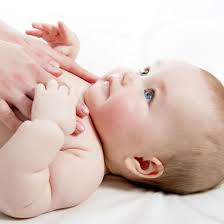 Childcare Room 2
Giving your baby a nurturing and loving massage is one of the best gifts you can offer. Touch is one of the most important sensory experiences, as it can bring peace and comfort. Massaging your baby helps strengthen the bond between parent and child, and can even help reduce or eliminate mild PPD in mommy. Massaging your baby stimulates different body systems including digestion/elimination, helping to relieve pain caused by gas/colic.
In this course, mothers will be guided in learning to massage their babies. There will be time for group discussion about topics relating to massaging their infants as well as other topics of interest to the group. Always remember that your baby's needs come first, and you are welcome to allow your baby to sleep through the class (while you practice with a doll) or if baby is having a fussy day and just isn't feeling it!
Participants are asked to bring a plasticized change pad, at least 2 receiving blankets (or towels) and a yoga mat to class with them. Mobile babies under the age of 12 months are welcome.  A $2 fee is payable to the instructor at the first class for the baby massage oil.
Please Note: This course begins on October 15. This is a 6-week course.
Instructor: Patricia Olinik, CIMI (Certified Infant Massage Instructor), RMT (Registered Massage Therapist)
---