Busy Bees (5-12 mos. with Mom)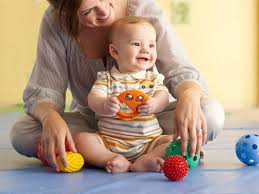 Friday 9:00 – 9:45 a.m.
Upstairs Classroom
Moms will get an opportunity to stimulate their child with songs, sensory activities and active play. You will engage your child in a variety of activities that are geared to help develop gross and fine motor skills. The last few minutes of class time will be set aside to allow mothers and babies to socialize and interact. Please bring a yoga mat to class.
Please Note: A $5 non-refundable fee for craft materials is included in the price of this course.
Please Note: This course begins on April 26. The last class is on June 14. This is an 8-week course.
Instructor: Colleen Coolen, B.A., B.Ed.
Register for Busy Bees.
---