Easing Depression Through Paper and Pen
Wednesday 1:00 – 3:00 p.m.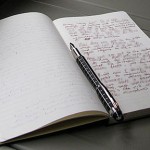 Upstairs Classroom
Are you looking for social support in dealing with your depression in a creative way? Want to make writing a part of your routine to ease your depression? If you answered yes to these questions, then this course is designed for you. It's not therapy and it's not a writing critique group, but it's a course that will help you explore your feelings, thoughts, and beliefs through writing, done within respectful and safe boundaries. It is a place where you can create, putting one word after another to tell stories only you can tell. It is a place to support and help one another by sharing your writing and accepting without judgment the writing of your peers. No writing skills needed; only a willingness to write, to create, to explore. Please bring a standard-sized notebook (either 6 x 9.5 or 8 x 11 inch or close to either of these sizes), a writing pen and a highlighter (optional).
Instructor: Laura Campobassi, DEC in Special Care Counselling

Register for Easing Depression Through Paper and Pen.
---