Evening Fresh Air Fitness – Medium/High Intensity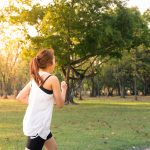 Tuesday 6:10 – 7:10 p.m.
Outside — Meet on the grass on the north side of the building
Exercising outside is a great way to boost your fitness and your mood!  Have fun building your all-round fitness by combining periods of running with strength and conditioning exercises in this fresh air class.  Participants should be able to run at least 2 km. Variations for strength and conditioning exercises will be offered for all fitness levels. Expect to have a lot of fun, work hard and maybe get a bit muddy!  Class will only be cancelled in the case of extreme weather such as freezing rain and will normally run rain or shine; dressing in layers is recommended. Please bring a headlamp and wear reflective clothing or armbands.
Please Note:  This course begins on April 23.  The last class is on June 11. This is an 8-week course.
Please Note: The WIWC's free childcare service is not available during evening courses.
Instructor: Hilary Jones, YMCA Individual Conditioning Instructor
Register for Evening Fresh Air Fitness.
---