Fresh Air Fitness Friday – Medium/High Intensity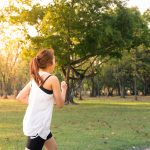 Friday 10:00 – 11:00 a.m.
Outside 
Exercising outside is a great way to boost your fitness and your mood.  Have fun improving your overall fitness by combining periods of running with strength and conditioning exercises in this fresh air class.  Participants should be able to run at least 2 km. Variations for strength and conditioning exercises will be offered for all fitness levels. Expect to have a lot of fun, work hard and maybe get a bit muddy!
Important information:
Meet on the grass on the north side of the building.
Class will only be cancelled in the case of extreme weather such as freezing rain and will normally run rain or shine; dressing in layers is recommended.
There is no class on October 18. The last class is on November 29. This is a 10-week course.
Instructor: Hilary Jones, YMCA Individual Conditioning Instructor
Register for Fresh Air Fitness Friday.
---