Mindful Mondays
Monday 10:00 a.m. – 12:00 p.m.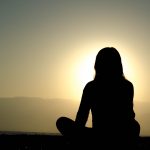 Upstairs Classroom
Are you looking for a weekly dose of motivation and inspiration to stay mindful and balanced no matter what life throws at you?
Join us on Monday mornings as the instructor takes you through an uplifting process of personal development and energy practice using the tools she has learned during her corporate personal training experiences and intuitive training as a Reiki Master.
This 6-week course is designed to motivate you and provide tools for maintaining balance and harmony in your life. Practicality meets spirit to help you find ways to remain calm, mindful, positive, uplifted and motivated. Each session is focused on ways for you to connect with yourself in a relaxing, fun and supportive environment. We will use a variety of techniques, such as meditation, journaling, art, movement, crystals, reiki, chakras, life coaching, quizzes, tarot, oils, worksheets, positive affirmations, and visualizations. Please wear comfortable clothes and bring water and a pen. A yoga mat will be needed during some classes.
Please Note: This course begins on April 29. There is no class on May 20 (Victoria Day). The last class is on June 10. This is a 6-week course.
Instructor: Nicole Fortunaso, B. Sc., B. Bus., Reiki Master 
---