Mixed Media Collage
Thursday 1:00 – 3:00 p.m.
Childcare Room 2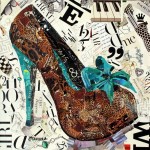 Explore art and the act of creating collage through a creative process. This 7-week course will be offered in a workshop style so students will leave each class with a finished or semi-finished project. Using imagination and intuition, each student creates a work from simple materials using the basic elements of design (line, space, colour, form, value and texture) while exploring the principles of design (repetition, contrast, balance, unity and movement). Students are encouraged to bring in line drawings of scenes, specific objects or creatures for composition(s). Students will experiment with different papers and techniques to create spirited and innovative collages while learning about colour, composition, texture, edges and shape.
Students will also learn about artists who have made their mark on the art world, including  Gustav Klimt, Pablo Picasso and Henri Matisse. Other topics covered include inventory of materials and tools, transparency, layering, value, colour theory, negative space, and creating textures. The use of text and mono-printing using impressed surfaces and stencils will be introduced as well. Creating in any genre — the realistic to the abstract — is encouraged along with the use of unique and interesting materials.
SUPPLIES LIST – (* bring EVERY week – don't let your creativity down!!)
Work Space:
plastic or newspapers to protect your work area *
new garbage bag or dry cleaner bag or waxed paper
3 water containers for washing brushes (square potato salad are best!)
pallet, paper plates, paper towels *
Support:
2 pieces white 20″ x 30″ foam core board – to be cut into 6 equal squares (10″ x 10″) *
watercolour paper to glue on board (optional)
X-Acto type knife with a supply of blades
1 firm, hard rubber roller or brayer (3-4″ max.)
Tools:
1 pair of scissors, 12″ or 18″ ruler, masking tape, glue stick *
cutting mat (12″ x 18″) (optional)
assorted pencils — hard and soft grade, white plastic eraser *
acrylic matte medium — 8 oz. (optional)
2 foam brushes—1-2", cheap brush, 1″ and 2″ for glue and painting with colour brushes *
black sharpie markers — thin and thick tips
Styrofoam trays, photocopier transparency sheets, stamps – rubber, hand carved
old toothbrush
ink (India or Chinese black, coloured), watercolour, liquid acrylic paint
Paper (we will tint, paint, add texture):
Paper: tissue (6 sheets), rice, wallpaper, comics, magazines, newspapers (all languages) *
Other: aluminum foil, transparent plastic, jigsaw puzzle pieces, cardboard, packaging
Please Note: This course begins on April 25 and ends on June 6. This is a 7-week course.
Instructor: Ann Kallaste Kruzelecky, B.F.A. (Concordia)

Register for Mixed Media Collage.
---