Outdoor Stroller Fit (Moms and babies 6 wks-18 mos.) – Medium Intensity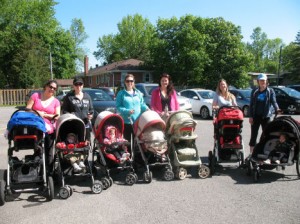 Thursday 10:30 – 11:30 a.m.
Outside – Meet on the grass on the north side of the building
Stroller fitness is a full-body workout that includes cardio intervals, strength training, core work, and flexibility training. This course is open to all fitness levels. Women who want to join this class should be 4+ weeks postpartum if there was no complication during delivery (or 6 weeks for caesareans or other complications).  No special stroller is required. You should bring a mat and wear comfortable clothing and running shoes. Childcare is available for older siblings. Please Note: This class will run rain or shine so a stroller rain shield or sun shield is recommended.
Please Note: The last class is on June 6. This is an 8-week course.
Instructor: Jasmina Wegrzycka, Certified YMCA, CAN-FIT-PRO, Cardio Plein and NASM (National Academy of Sports Medicine)
Register for Outdoor Stroller Fit – Medium Intensity.
---