Prenatal Fitness – Low Intensity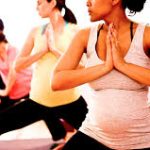 Wednesday 8:00 – 9:00 p.m.
Gym
This low-cardio and yoga course will begin with 30 minutes of low impact aerobic exercise to help keep your body in shape during pregnancy, improve sleep, and boost your energy. During the second half of the class you will be practicing the de Gasquet method of yoga, which focusses on postural coaching, strengthening the core, and stabilizing your pelvis. Please bring a yoga mat, a pillow or cushion, and a water bottle.
Please Note: The WIWC's free childcare service is not available during evening courses.
Instructor: Kumie Nakane, ACE (American Council on Exercise) Certified Personal Trainer, Certified Suspension Trainer (TRX), Prenatal and Postnatal Yoga (Institut de Gasquet)
Register for Prenatal Fitness – Low Intensity.
---