Self-Defence
Monday 1:00 – 2:00 p.m.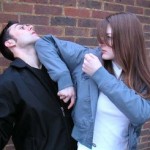 Childcare Room 2

Do you know what to do if you are grabbed from behind? Did you know that 80% of self-defence is common sense? Are you aware of how your body language can help you avoid violent situations? Come and learn tricks and techniques to escape from every possible kind of attack and how to harness your power and deliver it in explosive strikes and kicks. Be prepared. Be empowered.
Please Note: There is no class on April 22 (Easter Monday) and May 20 (Victoria Day). The last class is on June 10. This is a 7-week course.
Instructor: Meghan Greig, 2nd degree black belt in Wado Kai karate

---