Singing With Mom (12 to 36 mos.)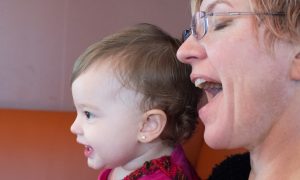 Wednesday 9:00 – 9:45 a.m.
Upstairs Classroom
Moms and their little ones will enjoy singing both well-known and the instructor's original songs in this course. Songs will touch on musical concepts, environmental themes, and incorporate English, French, Spanish, and German. The last few minutes of class time will be set aside to allow mothers and toddlers to socialize and interact.
Please Note: There is no class on June 5. The last class is on June 12. This is an 8-week course.
Instructor: Kerry-Anne Kutz, M. Music
Register for Singing with Mom (12 to 36 months).
---