Toddler Tunes (Children 12-24 mos. with Mom)
Monday 11:00 – 11:45 a.m.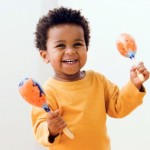 Upstairs Classroom
Toddlers between 1 to 2 years of age are busy learning and exploring movement and speech. Using music as a vehicle, we will be connecting singing/speech with gesture and exploring beat through basic movement and small percussion instruments. The last few minutes of class time will be set aside to allow mothers and toddlers to socialize and interact.
Instructor: Heather White, B. Music (Memorial University), M. Music Studies (Bowling Green State University), PhD. Music (McGill University)
---