Watermedia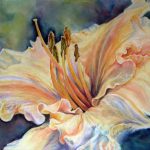 Friday 1:00 – 3:00 p.m.
Upstairs Classroom
Have fun with watercolor and learn to relax with this medium. You will discover how to use its unpredictability to greatest effect, creating your own style and vision. While learning the basics, you will also be taught how to use various techniques that push the envelope. 
SUPPLIES LIST:
There are many different brands of paint available on the market. The instructor recommends starting with three or four professional-grade watercolour tubes such as Winsor & Newton, Daniel Smith, M. Graham or Holbein.
The instructor also recommends buying just one or two quality brushes to begin. This will give you greater satisfaction and success with your painting. Kolinsky natural sable brushes are the best and will last many years. A great alternative and more affordable option is The Neptune Series by Princeton. These synthetic brushes have excellent spring and absorbency. Quill or mop brushes are also a wonderful addition to your painting kit. Many of these options will be discussed in the first class.
Buying all the starting materials will cost approximately $75.00. Many of the items listed below can be brought from home. Here is a list of what you should bring to every class (* indicates required):
Work Space:
2 large containers to hold water* (potato salad, large yogurt)
lidded pallet with wells* (If you are a beginner, you can buy a white plate from the dollar store.)
masking tape, roll of paper towel, roll of bath tissue or box of Kleenex tissue*
Q-tips in a covered container, small spray bottle*
1/4 cup rock salt or Kosher salt in a clean prescription tablet bottle or small jar*
corrugated plastic backing board such as Coroplast or a masonite
watercolour paper either in large sheets (to be cut into smaller sizes) or watercolour pad such as Canson Montval Watercolor or Fabriano (9" x 12" or larger)*
Brushes:
a 1 1⁄2"– 2 1⁄2" flat wide nylon brush for washes or a larger round or "quill" brush
small round size 2*
round size 8*
script or rigger brush size 4
Paint Colours:
Prioritized: Payne's Grey, Alizarin Crimson, Ultramarine Blue, Hansa Yellow Medium*
Later purchase: Burnt Umber, Burnt Sienna, Quinacridone Gold, Cobalt Blue, Sap Green
Other:
a sketchbook or scrap paper
HB and 2B pencils, kneadable or white plastic eraser (Staedtler)*
Chinese ink (black), coloured inks, watercolour pencils, watercolour crayons (helpful if you plan to do mixed media)
fine-line pens – Pigma Micron pen #01 or #03* #05
Please Note: This course begins on April 26. The last class is on June 14. This is an 8-week course.
Instructor: Michèle Tougas, Painter, Member of Lakeshore Association of Artists
Register for Watermedia.
---