Digital Photography: People, Places and Portraiture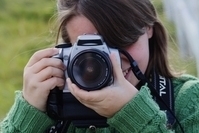 Monday 7:00 – 9:00 p.m.
Childcare Room 2
This class is for those who know the photography basics, who have had their cameras for a while, but would like to improve on techniques they know, learn more about what makes a good photograph, and develop a better sense of composition, lighting and exposure control. This is not a class for beginners!
Taking pictures of people and portraits presents its own set of wonders and challenges! Participants will learn digital imaging methods that focus on specific practical examples for reliable photographic results. The development of solid techniques in portraiture and the taking of creative photographs will be the focus of this course. Elements from the specifics of lighting to location and positioning will be explored through hands-on methods including field trips and models. Participants should possess a digital camera of 8 megapixels or more and be prepared to spend an additional hour of personal shoot time per week outside the classroom.
Please Note: This course starts April 24. There will be no class on May 22 (Victoria Day). This is a 7-week course.
Please Note: The WIWC's free childcare service is not available during evening courses.
Instructor: Cassandra Leslie, C2 Studios
---