Drum Circle
Friday 1:00 – 3:30 p.m.
Upstairs Classroom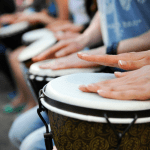 Drum Circle is a fun, workshop and interactive experience to play and create rhythms while collaborating together!
Important information:
Participants are asked to bring their own Djembé.
The WIWC's childcare service is not available during this course.
This course begins on February 6. There is no course on March 5. The last class is on March 26. This is a 7-week course.
Instructor: Militza Nuñez, Diplôme de fin d'études (Conservatoire Annemasse), DESS en Interprétation Percussion, DESS en Répertoire d'orchestre (Université de Montréal)
---