ELDOA Flow Stretching
Wednesday 7:45 – 8:45 p.m.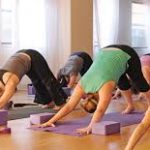 Gym
ELDOA is an osteopathic stretching technique, learned through specific body positions, to assist in creating micro-millimetres of space between the joints and vertebrae. Proven to reduce pain, prevent back pain and joint issues, reduce compression on the spinal column, improve nerve function, and increase the overall sense of body-wellness. Taught through a flow of positions, this practice allows for increased clarity and body awareness; bringing health to our spine, improving our posture, and increasing confidence and well-being. All ages and fitness levels are welcome!
Important information:
The WIWC childcare service is not available during evening courses.
Please bring a yoga mat to class.
Instructor: Julia Wight, B.Sc. Nutrition, Masters in Public Health
Register for ELDOA Flow Stretching.
---