The Annual Silent Auction
The Women's Centre's 22nd Annual Silent Auction Fundraiser
Friday, November 10th, 2017
7:00 p.m. – 10:00 p.m.
West Island Women's Centre
11 Rodney Ave., Pointe-Claire  H9R 4L8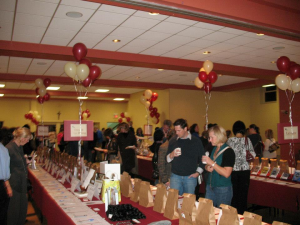 Tickets still available at the door for $15.00!
It is hard to believe but it will soon be time for our 22nd Annual Silent Auction! The Women's Centre's fundraising team, staff and volunteers have been gearing up for this event for months – and it's about to get a whole lot more exciting! Here are three good reasons to join us for this year's event.
1. It's a Social Event
The silent auction is the place to meet members, neighbours and friends in a fun and friendly setting. It's also a great way to spend a November Friday night — well before the holiday rush begins to cram your social calendar! With lively music, and a beautiful setting the event is a sure winner. At the auction, there is a cash bar featuring wine and beer. Also available are coffee, tea, and appetizers. Gather your friends, book your babysitter, and join us!
2. It's a Shopper's Paradise
Each year, well over 200 organizations throughout the Montreal area donate items or services for the auction. There is something for every taste and budget — from snow-removal contracts to children's party ideas, luggage for that long-awaited trip south to works for the home — the finds are amazing! Bring your holiday shopping list and get a jump start on the season!
3. It's our most important fundraiser
The money raised at the silent auction helps our non-profit organization fulfill its mission of improving the quality of life of women. The funds allow the Centre to offer a large selection of daytime and evening courses for women and their children at a reasonable cost as well as outreach activities, seminars, and special events for the community at large. This is the best opportunity you have all year to support your organization. And all you need to do is purchase a ticket and join us for some fun! Not a bad bargain! Tickets can be purchased now at the WIWC Office, online or at the door and are $10 per person and $15 at the door. For further information please call 514-695-8529. Hope to see you there!