Exploration Through the Senses (18-36 mos. with Mom)
Wednesday 10:00 – 10:45 a.m.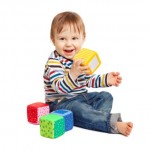 Upstairs Classroom
Come and explore the senses in a fun and stimulating class for you and your toddler. This class will promote body awareness, motor skill development and social interaction as your child participates in a group setting. Each week you and your child will be introduced to semi-structured activities that will provide your child with sensory-rich experiences and promote flexible learning. A great way for him/her to connect with other toddlers and learn valuable social skills.
Please Note: A $5 non-refundable fee for craft materials is included in the price of this course.
Please Note: This is a 7-week course. There is no class March 1st (WIWC Event). The last class is on March 15th.
Instructor: Wendy Pearson, B. Ed., B. A. (Bishop's University)
---