Exploring Digital Photography: Light and Portraits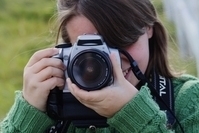 Monday 7:00 – 9:00 p.m.
Childcare Room 2
This class is for those who know some photography basics, who have had their cameras for a while, but would like to improve on techniques they know. Participants will learn more about what makes a good photograph and develop a better sense of composition, lighting, and exposure control. Participants will learn digital imaging methods that focus on specific practical examples for reliable photographic results.  Please note this is an intermediate course and is specifically geared towards someone who knows the basics of shooting with a manual camera.
Important information:
The WIWC's childcare service is not available during evening courses.
Instructor: Cassandra Leslie, C2 Studios
Register for Exploring Photography: Light and Portraits.
---