Free-form Mandala Acrylic Painting
Saturday 11:00 a.m. – 12:00 p.m.
Childcare Room 2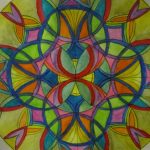 Come and create a free-form mandala painting that will be built upon over the course of 9 weeks.
Important information:
There is a $25 consumables fee payable to the instructor on the first day of class.
Please note that the WIWC's childcare service is not available during Saturday courses.
The last class is on March 21. This is a 9-week course.
Instructor: Terri Almond, Self-taught artist and photographer; Integration aide at LBPSB
Register for Free-From Mandala Painting.
---