Growing Gardeners
Thursday 7:00 – 9:00 p.m.
Childcare Room 2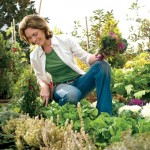 This 9-week journey into the world of gardening will equip participants with the essential tools to become successful home gardeners while inspiring participants to create their dream garden. After determining their needs, their site's conditions, and their preferred garden style, participants will learn about major plant groups, the soil, and some of the best plants available for their garden. Participants will also take a closer look at how design principles can help them when creating their ideal garden. Regular slide presentations will serve to inspire participants and aid in their learning while "mini" homework tasks may be assigned to encourage group interaction for the following week's class. (For example, a homework assignment might be to find inspiring photos of gardens you love.) At the end of the course, participants should also feel more comfortable when dealing with landscape professionals to avoid making costly mistakes.
Instructor: Elaine Sanders, Landscape Designer, Gardening Coach
Please Note: The WIWC's free childcare service is not available during evening courses. 
---