Let's Make a Scene! (10-16 yrs.)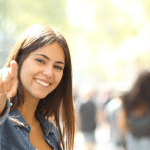 Wednesday 4:30 – 6:00 p.m.
Childcare Room 2
Kids and teens will jump into this high-energy workshop and learn the rules of improv so they can create amazing theatre on the spot. Are each other to a game of wits and find the joy of being silly. A small class size allows for a safe and encouraging place to play. No experience – or right answers – required.
Important information:
The WIWC's childcare service is not available during this course.
This course begins on January 22. There is no class on February 19 and March 4. The last class is on March 11. This is 6-week course.
Instructor: 20 years of improv training with John Abbott College, ASM, Hudson Village Theatre
Register for Let's Make a Scene! (10-16 yrs.)
---