Volunteer Opportunity: Fundraising/Special Events Director
At the heart of our volunteer-run organization are the women who sit on our board of directors. At this time, the Centre is seeking candidates for the fundraising/special events director position. Board members are elected for a 2-year term, which may be renewed. Won't you consider joining the team? Here is some more information: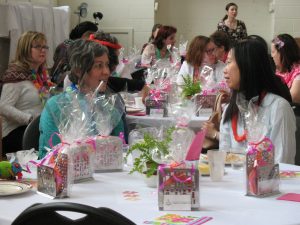 Fundraising/Special Events Director
As the name suggests, the fundraising/special events director is responsible for overseeing our organization's fundraising efforts and special events. The director receives a great deal of assistance from the events coordinator, the staff member responsible for coordinating our events and fundraisers. In addition, the director works with the team of volunteers on our fundraising committee.
The Centre's major fundraiser is our annual silent auction held in November. This year, a second fundraising event was added, our April spring bazaar. Through the year, the Centre organizes a number of events for our members, including the welcome event, holiday basket collection, and volunteer luncheon. The Centre also hosts an International Women's Day celebration attended by guests from other non-profit groups and local government representatives. It is expected that the fundraising/special events director would be available for the auction and as many other special events/fundraisers as possible. In addition to board meetings, this position takes 4 to 5 hours per month – with more hours needed during the months of October and November.
As members of our board, our directors participate in the Centre's monthly board meetings, which take place from September to June, usually from 12:45 to 2:30 p.m. on the first Tuesday of the month. All board members are involved in the discussions that help to determine everything from our operations to our organization's future goals.
If you were thinking about becoming more involved at the Centre, joining the board is a great opportunity. No previous experience necessary. If you would like more information, please contact Karen Henchey  at 514-695-8529.
---