Introduction to Gardening
Friday 9:00 – 11:00 a.m.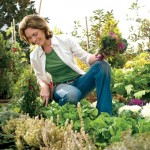 Childcare Room 2
Gardening is a rewarding and popular hobby, but where do you start? Great gardens require patience and much planning. This 10-week journey into the world of gardening will enable participants new to gardening to "just dig in" and feel more comfortable with the steps required in creating and maintaining their own garden while also providing valuable information for more experienced gardeners. Each week will be devoted to a different gardening topic, and learning will be enhanced with slide presentations of garden photos and the multitude of plants that exist in today's market. Participants are encouraged to ask topic-specific questions in class.
Please Note: There is no class on November 13.
Instructor: Elaine Sanders, Landscape Designer, Member, Beaconsfield Garden Club
---