Job Opening –  Facilitator – 55 Up! Women's Group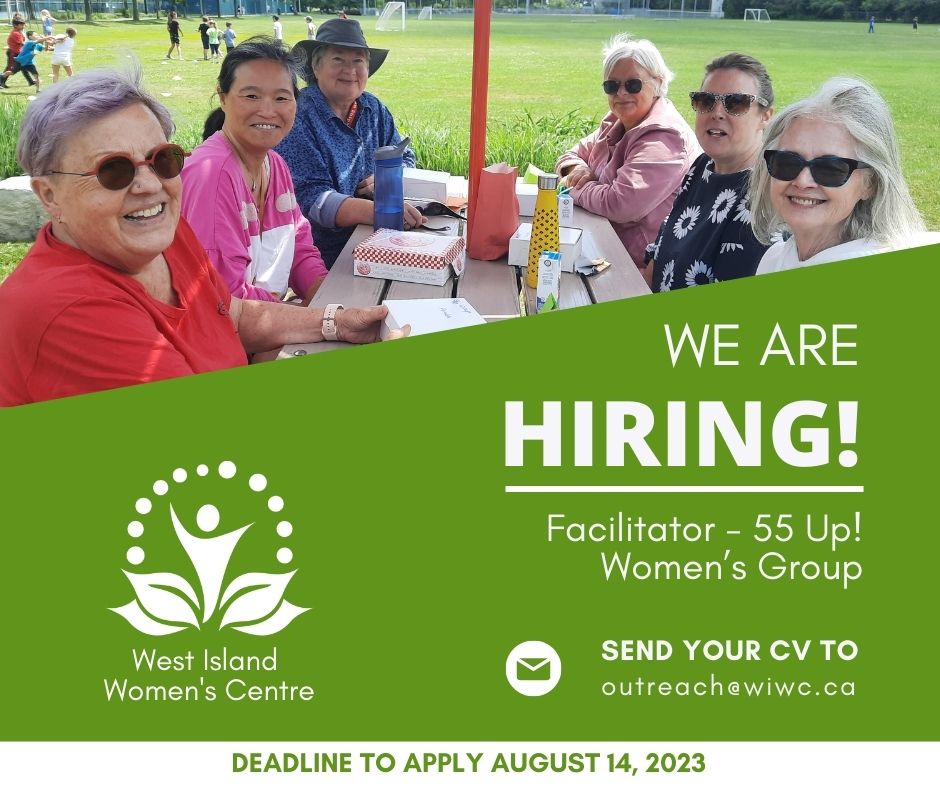 Reports to: Community Outreach Coordinator
Salary: $33:00/hr
Type of Position: Contract, 3.5 hours/week
Duration: September to December 2023, with possible extension after probationary period.
The West Island Women's Centre provides support to all women who seek its services – mothers, women with part-time or full-time jobs outside the home, women entrepreneurs, seniors, and women in financial difficulty. Our free community outreach initiatives include support groups, Moms & children activities, seniors groups, language classes, female adolescent workshops and programs for women who have recently immigrated to Québec.
The Centre is currently looking for a Facilitator for the 55 Up! program for the upcoming Fall session which runs September – December 2023. This program offers an opportunity for women to connect with other women in the community and form supportive and friendly relationships. The format of this free group is social and conversational with occasional facilitation of workshops or presentations on a topic of interest.
The group will meet weekly on Fridays from 1pm – 3pm from September 15 to December 8, 2023 at the Women's Centre in Pointe-Claire.
KEY RESPONSIBILITIES
A support group is formed when people come together with a common interest or life experience. It may be informal or formal, but includes the following:
Safe and welcoming environment
Sense of respect
Sharing information
Availability of practical help
Sharing responsibility
Acceptance
Learning together and from each other
Emotional connection
As the Facilitator for 55 Up!, responsibilities include:
Create safe and informal opportunities for women to meet other women and share their experiences, develop new friendships, and build a support network.
Facilitate meaningful activities and discussion for participants.
Provide content / plan for discussion on a weekly basis.
Encourage conversation and sharing of participants.
Seek solutions to challenges raised by participants.
Ensure all programming reflects the needs of the community.
Be part of an important West Island resource for all women in the community and help expand the Centre's impact.
QUALIFICATIONS
Bilingual (French and English).
Education and/or experience in: Social Services, Leisure Sciences, Human Relations, or related field.
Experience working with older adults is an asset.
A warm, caring and positive individual passionate about making a difference.
Personal satisfaction from connecting with and supporting individuals and groups of people.
Demonstrated experience facilitating, coaching or guiding groups with a participatory approach and in a culturally sensitive manner.
Experience in a community organization would be an asset.
A knack for establishing and maintaining good interpersonal relationships.
Excellent communications skills.
Comfort working autonomously and in a team environment.
Ability to troubleshoot.
Ability to act calmly and quickly to de-escalate situations in a professional manner
Knowledge of resources available in the West Island, or the ability to find information required, in particular for women new to the area / country.
Collect and prepare any data or reporting, as may be required by the Centre's Community Outreach Coordinator.
Follow all policies and procedures as outlined by the West Island Women's Centre.
Please send your resume to Nadia Prevost, Community Outreach Coordinator, by email: outreach@wiwc.ca before August 14th.
---