SelfSight® Journaling
Thursday 1:00 – 3:00 p.m.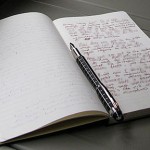 Upstairs Classroom
A journaling adventure offering enlightening insight into the many aspects of your Self.  To know, understand, and accept your Self is to have ultimate freedom. You are set free to be your best you, to tap into untold inner resources, and to experience everything around you from a new, illuminated perspective.
Please Note: There is no class October 27 (WIWC event). The last class is on December 1. This is a 10-week course.
Instructor: Jill Boileau, Holistic Journaling

---