Journaling: Hallelujah! Letting Go
Wednesday 1:00 – 3:00 p.m.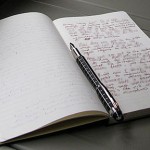 Upstairs Classroom
When we hold on to things that do not serve us, that are outdated or harmful, our "baggage" can become heavy or unbearable, making it difficult to see how to move forward and almost impossible to thrive. But how do we let go of things such as crippling self-judgment, anger, resentment, guilt, anxiety, expectations, outdated beliefs, relationships, disappointments, worries — when "Letting Go" is such an abstract concept? This course provides a process through journaling to help you let go, stop sacrificing yourself, and learn to be true to your Self. Hallelujah! You CAN feel lighter, more alive.
Instructor: Jill Boileau, Holistic Journaling

---