Little Learners (Children 2-3 yrs with Mom)
Thursday 10:45 – 11:45 a.m.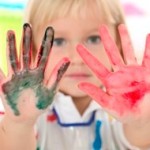 Upstairs Classroom
Come for an action-packed hour of exciting and engaging learning. You and your child will be introduced to fun games and songs geared towards pre-academic skills. This structured time will include group time, story time, and play-to-learn center activities.
Please Note: This is a 10-week course.
Instructor: Jill Spence, Bachelor Early Childhood, Elementary and Special Education, University of Northern Iowa
---