May themes in childcare
Week 4  Celebrating Mother's  Day!
The kids will be busy every day making wonderful gifts filled with love for Mom for Mother's Day. Some of these gifts will remain a surprise and some may not!
Week 5  Things that fly!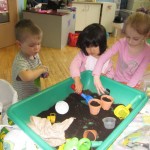 We begin a week learning about spring birds! On Tuesday some birds will visit from the " Parrot Playhouse" and we will get some tips on bird care from Zaf Koty. We will also learn to make our own colourful birds and bird feeders at craft time.
The rest of the week we will be looking at the many other things you see flying in the sky on a spring day like kites, windsocks, balloons, pinwheels planes. and more.
Week 6  Getting our hands dirty!
It is Gardening Time! The kids will be planting and playing in the ground with gardening tools. They will take home a plant to take care of.
The latter part of the week we will learn about bugs and their relationship with flowers and plants. We will create different kinds of bugs like the lady bug and beautiful butterflies!
Week 7   There will be splashing!
It is ocean week! the kids will enjoy a Hawaiian style party where they can wear their bathing suit (bring a towel) and we will have water play. We will make leis and grass skirts and there will be lots of water play!
---