WIWC Walking Club
Free walking group for WIWC members.
Mondays 1:00 – 2:30 pm
Please note that Walking Club is cancelled Monday, Janaury 21, due to extreme cold.
The walking club Fall session will run between September 10th to December 17th, 2018.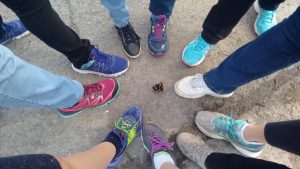 Looking for a new way to motivate yourself and others to get moving?  The group meets every Monday afternoon at 1:00 rain or shine. This activity is free to all members including moms with strollers. Occasional childcare for pre-school aged children is available; please contact Iva at iva.rooney@wiwc.ca in advance. Walking with a friend is a great way to take the hard work out of working out and can improve your overall fitness and cardiovascular health. Get up and get moving!
To join please email programming@wiwc.ca or call the office at 514-695-8529.
You can also check out the walking group on facebook
---