Young Families
It's Time for Two!
A Free Arts and Crafts Program for Young Families
Who: For Children from one to five years and their moms
Day: Tuesdays (September to May)
Time: 10:30 – 12:30. Please bring a snack.
Where: St. John Fisher Church, 120 Summerhill Ave., Pointe-Claire, H9R 2L7
More info: Time For Two on Facebook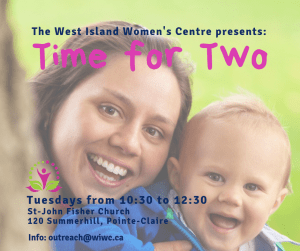 Since October 2005, the West Island Women's Centre has been offering "Time for Two," an arts and crafts program for young families in the territory of the CLSC Lac St. Louis. The aim of this activity is to break isolation and to support all families, especially those headed by young mothers, low-income families, or families who have recently immigrated to Canada.
"Time for Two" encourages a joyful, positive experience for mother and child to share. An added benefit of the project is the opportunity it offers mothers to interact with one another and experience first-hand a very positive mother/child relationship. Mothers help to create an enriching environment in which their child can learn and grow. With the assistance of the instructor, they also learn how to incorporate stories and art into their day-to-day family life.
C'est le Temps pour Deux!
Un Programme GRATUIT d'Art et d'Artisanat pour les Jeunes Familles
Pour Qui? Les enfants d'age prescolaire et leur maman
Quand? Les Mardis de Septembre-Mai
Quelle Heure? 10:00 – 12:00. Apporter une collation
Ou? 4902 Boul. Saint-Charles, Pierrefonds, Quebec H9H 3E3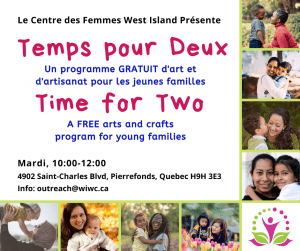 Depuis octobre 2005, nous offrons «Temps pour Deux», un programme d'art et d'artisanat pour les jeunes familles du territoire du CLSC Lac St. Louis. Le but de cette activité est de briser l'isolement et de soutenir toutes les familles, en particulier celles dirigées par de jeunes mères, les familles à faible revenu, ou les familles ayant immigré récemment au Canada.
«Temps pour Deux» encourage une expérience positive et joyeuse à partager entre mère et enfant. Un avantage supplémentaire du projet est la possibilité offerte aux mères d'interagir les unes avec les autres et de vivre une relation très positive mère-enfant. Les mères aident à créer un environnement enrichissant dans lequel leur enfant peut apprendre et grandir. Avec l'aide de l'instructeur, elles apprennent également à incorporer la lecture et l'art dans leur vie de famille quotidienne.
Pour plus de renseignements rejoindre/For more information contact Nadia Prevost, West Island Women's Centre's Outreach Coordinator 514-781-8529, outreach@wiwc.ca