Pre- and Postnatal Fitness – Low Intensity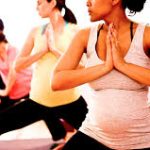 Saturday 11:00 a.m. – 12:00 p.m.
Gym
We will begin with 30 minutes of whole-body workout to help keep your body or get it back in shape. During the second half, we will practice the de Gasquet method of yoga, which focuses on postural self- correction with diaphragm breathing, and stabilizing your pelvis. This course is welcome to all pre-natal participants and to women 6 weeks post-delivery. Please consult your healthcare professional before beginning any exercise regime.
Important information:
The WIWC's childcare service is not available during Saturday courses.
Bring a yoga mat, a pillow or cushion, and a water bottle.
The last class is on March 21. This is a 9-week course.
Instructor: Kumie Nakane, ACE (American Council on Exercise) Certified Personal Trainer, Certified Suspension Trainer (TRX), Prenatal and Postnatal Yoga (Institut de Gasquet)
Register for Prenatal Fitness – Low Intensity.
---