Halloween Party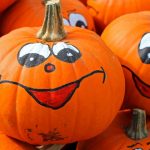 The West Island Women's Centre will soon be overrun with little goblins and witches! The annual Halloween Party is coming up on Tuesday, October 30th from 1:00 to 2:30 p.m.
Moms and kids, get your costumes on and come for lots of fun activities! The party will finish with a yummy snack and a treat to take home. Space is limited so reserve your spot now. Tickets cost $2.00 per child and are for sale in childcare. 
Each year the Centre hosts a Halloween party for the children. The event is organized by our childcare staff and a team of volunteers. There are toys to play with, crafts to make, snack time and a big circle time with songs and stories. The event is a great opportunity to introduce your little one to some Halloween fun — especially if they will be fast asleep on October 31st when the trick or treating starts.
---