Spring Themes in Childcare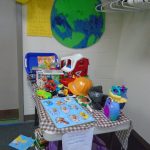 Week 1 April 15-18
Celebrating Easter and Welcoming Spring!
Week 2  April 23-26 
Earth Day  and Spring cleaning!  The many ways we can protect our Earth!
We will also do an item exchange event  for Earth day! Moms and kids can bring a small toy or book and choose a small item to take home. This will teach the kids the benefits of recycling!
Week 3: April 29-03
Spring Fling in Childcare! Planting Seeds and first flowers of Spring!
Week 4: May 6-10
Special surprises for Mother's Day all week! Lots of little gifts just for mom in preparation for Mother's Day!
Week 5: May 13-17
Things that fly in spring!
Week 6: May 21-24
Sunshine sunflowers and ladybugs
Week 7: May 27-31
Caterpillars and Beautiful Butterflies
Week 8: June 03-07
Hawaiian pool party! Water play inside and outside plus under the sea creatures!
Week 9: June 10-14
Animals we see at the farm and Things that crawl in the summer!
There will be some other fun Themed Days like  Crazy Hair day , Silly Hat day, Pyjama day, Graduation for our preschoolers and More!
---