"The Gifts of Imperfection"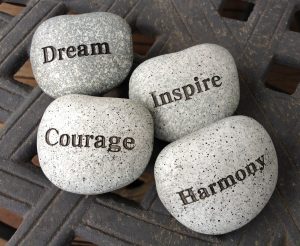 Who among us doesn't want more courage, compassion and connection in our lives? Researcher Dr. Brené Brown set out to study "whole-hearted living" to discover what is required to live that kind of life. She found that to achieve that level of well-being we also have to address things like shame and fear of vulnerability which can get in the way. Using the 10 guideposts set out in her acclaimed book, "The Gifts of Imperfection", this 8-week discussion-based support group will look at "letting go of who you think you're supposed to be to embrace who you are".
We'll begin by sharing our experiences, expectations and hopes regarding courage, compassion and connection as well as discuss ways to tackle the issues that stop us from having those very things. Some of the weekly topics that we will explore are self-compassion, resilience, creativity, meaningful work and laughter.
The group will be facilitated by Kelly Roughton, CCF certified Life Coach
Meetings will take place on Wednesdays from 7 to 9 p.m. beginning April 18, 2018.
The group is free of charge, but donations are welcome. Registration is required. To join the group, please call the Women's Centre's Outreach Line at 514-781-8529 or email  outreach@wiwc.ca. Space is limited. Meetings take place at the West Island Women's Centre, located at St. Columba-by-the-Lake Church, 11 Rodney Ave., Pointe-Claire. (Please use the Vincennes Ave. parking lot entrance.)
---