The Joy Project
Thursday 7:00 – 9:00 p.m.
Childcare Room 2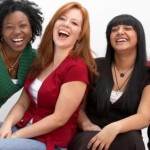 In recent years, there have been a number of studies released that look at the habits of people who are generally happy. Each class will focus on some of these habits. Participants will be invited to try and develop these habits over the course of the session, to journal about their experiences, and then share what they have learned about this process with the group. We will also look at the difference between moments of happiness and real joy and how to cultivate this deeper form of happiness.
Instructor: Anne Szczygieski, B.Ed., McGill University
Please Note: The WIWC's free childcare service is not available during evening courses.
---