Time For Two
A Free Arts and Crafts Program for Parents and Pre-school Aged Children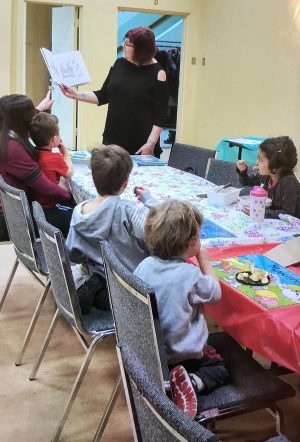 The West Island Women's Centre is offering a mom and pre-school aged activity on Tuesdays from 10:30 to 12:30pm. Read a story, make a craft and have some fun with us!
Who:    For Children from one to five years and their moms
Day: Tuesdays (September to May)
Time: 10:30 – 12:30.  Please bring a snack.
Where: St. John Fisher Church, 120 Summerhill Ave., Pointe-Claire, H9R 2L7
Since October 2005, the West Island Women's Centre has been offering "Time for Two," an arts and crafts program for young families in the territory of the CLSC Lac St. Louis. The aim of this activity is to break isolation and to support all families, especially those headed by young mothers, low-income families, or families who have recently immigrated to Canada.
"Time for Two" encourages a joyful, positive experience for mother and child to share. An added benefit of the project is the opportunity it offers mothers to interact with one another and experience first-hand a very positive mother/child relationship. Mothers help to create an enriching environment in which their child can learn and grow. With the assistance of the instructor, they also learn how to incorporate stories and art into their day-to-day family life.
For more information, Check Time For Two on Facebook or call the Women's Centre's outreach line at 514-781-8529 or email outreach@wiwc.ca.  We hope to see you there!
---