Volunteer Opportunity: Volunteer Director
At the heart of our volunteer-run organization are the women who sit on our board of directors. At this time, the Centre is seeking candidates for the volunteer director position. Board members are elected for a 2-year term, which may be renewed. Won't you consider joining the team? Here is some more information: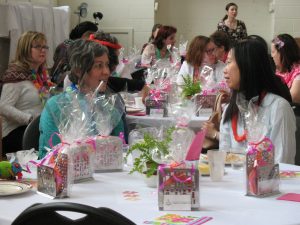 Volunteer Director
The volunteer director coordinates and tracks the volunteers recruited during the course of a busy Centre year. Most of the work for this position can be done at home. The fall months are the busiest time for the volunteer director as the Centre's year gets underway and volunteers are recruited for our November Silent Auction fundraiser. For the rest of the year, the position takes approximately 3 hours per month.
As members of our board, our directors participate in the Centre's monthly board meetings which take place monthly from September to June. All board members are involved in the discussions that help to determine everything from our operations to our organization's future goals.
If you were thinking about becoming more involved at the Centre, joining the board is a great opportunity. No previous experience necessary. If you would like more information, please contact Jacqueline Morrison  at 514-695-8529 or email director@wiwc.ca.
We are also looking for volunteers for our Publicity Committee to work alongside our Publicity Director in sharing all that the Women's Centre has to offer.
---