Walking Group: Step it Up!
Wednesday 1:15-2:15 p.m.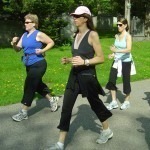 Outside – Meet on the grass on the north side of the building
This course will help you maintain a healthy weight, strengthen your bones, improve your balance and coordination, but most importantly, it will make you feel great! The course includes 40 minutes of walking — starting at a beginner's pace and gradually increasing the speed and difficulty. This is followed by 20 minutes of standing ab work and stretching. Please Note — this class will run rain or shine so come prepared! You are encouraged to bring a towel and a water bottle in a small bag. This is a 10-week course.
Instructor: Orly Sharoni, PMA (Pilates Method Alliance) Certified Instructor
---