Week 3 in Childcare – Apples!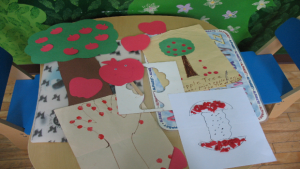 Next week in childcare the kids will learn about Fall harvest time. There will be apple faces and corn to decorate and apple trees to paint. We will talk about apple seeds and pumpkin seeds!
Moms and kids: we need apple seeds for a craft so if you eat a yummy apple this weekend save the seed for us and bring them with you next week!
On Wednesday we will try making apple juice! Lots to Do!!
---